As part of our mission in the larger community, Grace is dedicated to several outreach ministries.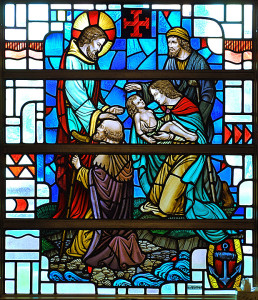 Family Promise of Bergen County
Bergen Family Promise provides shelter and services for working homeless families. Grace supports this program through donations of supplies, cooking, serving and enjoying meals with families in this program; hosting overnight shelters, and entertaining the younger children.
St. John's Lutheran Church, Passaic, NJ
We assist our sister church, St John's Lutheran Church in Passaic, with donations of clothing and household items for St. John's thrift shop. We also support them with financial donations for their outreach to day laborers: a program which quickly evolved from providing them with breakfast and lunch every Sunday to an "on the spot in the parking lot" worship opportunity in which half of the laborers are participating.
Change For Change
Financial donations collected through our "Change For Change" program (members drop in loose change on the way in and out of church) are given to support a variety of local ministries.
Community Food Banks
Ongoing food donations for local pantries are provided by Grace members.
Winter Clothing Drives
Gently used coats, hats and gloves are donated each fall for local distribution.
Angel Fund and Giving Tree
Many families in need are given financial assistance through our "Angel Fund" and "Giving Tree" programs during Christmas.
Community Groups
Grace proudly sponsors a Cub Scout Pack, a high school Christian group, and three AA groups.